Tacoma Concrete Contractor
N. W. Creative Concrete has been serving homes, business places and construction projects as a concrete contractor in the Tacoma community since 1992.
Our sustained success has come largely through word-of-mouth publicity. We go all out to complete our every job as a concrete contractor in the Tacoma area with unmatched precision and professionalism.
By hiring our contractors to install concrete driveway and concrete patios or other concrete work, you experience the complete peace of mind that comes from working with an:
Owner-operated concrete contractor with strong work ethics
Accomplished concrete contractor with a passion for concrete work
Highly-experienced concrete contractor with a history of successful projects
Well-reputed concrete contractor known for quality service
Customer-centric concrete contractor dedicated to customer satisfaction
Licensed, bonded and insured concrete contractor
After our contractors serve you once with your construction endeavour, we are sure to become the trusted concrete contractor in your Tacoma home for all your future concrete installation needs.
Tacoma Concrete Driveway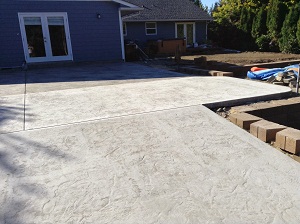 We offer wide-ranging services as a concrete contractor, including installation of:
Concrete driveway
Concrete slab foundations
Concrete patios and walkways
Concrete flooring; and more
While the concrete driveway and other installations are done by our own Tacoma contractors, we can also provide you with trained people for the excavation work.
Pouring a concrete driveway is one of our specialties. Our contractors offer customized services for your concrete driveway construction project, whatever its size or complexity. For us, a concrete driveway is not just a solid slab. Our Tacoma contractors work creatively to install a concrete driveway that makes a decorative addition to your property.
Tacoma Concrete Patios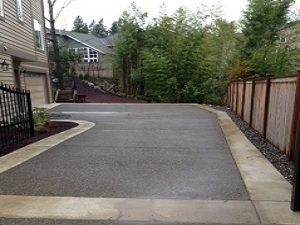 Besides a concrete driveway, our technicians also excel at creating concrete patios and walkways in Tacoma residential and commertial complexes. We install exceptionally beautiful concrete patios to expand your outdoor living spaces.
Moreover, our concrete patios are sturdy and allow you to enjoy your outdoors for years to come.
Though our work as a concrete contractor is focused on quality, we do realize that all projects for concrete patios, concrete driveway and other installations have time and budget limitations.
We see to it that top-grade materials and attention to detail in the construction of your concrete patios and walkways are coupled with appropriate measures for ensuring short lead times and cost-control.

The innovative techniques, technologies and services of our company help us complete your concrete patios and walkway jobs to exceed the industry standards:
Creativity
Craftsmanship
Cost
Speed
Let N. W. Creative Concrete be your go-to concrete contractor in the Tacoma community to work on your concrete driveway, concrete patios and other concrete installations. Call (253) 999-9080.