Tacoma Concrete Driveway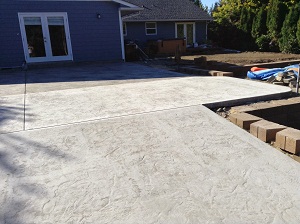 Creating a concrete driveway, walkway, entrance, floor or patio that looks elegant and is also structurally sound calls for considerable expertise in concrete flatwork.
N. W. Creative Concrete offers you just that! An accomplished flatwork contractor, we can give you the exact concrete driveway, concrete patio or any other surface you want.
Whether we install your concrete driveway, concrete entrance, concrete patio, concrete flooring, or some other concrete surface, you get flatwork services that:
Appeal to your aesthetic sensibilities
Fulfill your construction needs
Fit your budget
Our commitment to excellence and customer satisfaction distinguishes us from other concrete driveway and flatwork installers. The quality of a concrete driveway, walkway and entrance impacts any property's visual appeal and value.
Knowing this, we ensure the best of materials and workmanship in all concrete driveway and flatwork installations. We give personalized attention to every concrete driveway or other flatwork project, making sure that concrete driveway and flatwork installations meet all elevation and grade requirements.
Tacoma Concrete Flooring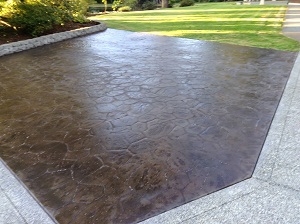 Our superior flatwork capabilities go beyond concrete driveway, walkway and entrance installation to include concrete flooring services.
The combination of beauty, economy and sustainability has made concrete flooring a top choice of property owners and builders alike.
And, our concrete flooring skills and experience have made us a preferred option for installing concrete flooring in homes and business places.
Our concrete flatwork experts offer numerous options in concrete flooring for your residential or commercial project and assure you of:
Beautifully-designed concrete flooring
Neatly and smoothly installed concrete flooring
Exquisitely finished concrete flooring
Strong, durable and low-maintenance concrete flooring

Tacoma Concrete Patio
While an exquisite concrete driveway enhances a property's curb appeal significantly, an attractive concrete patio goes a long way in enlivening its outdoors and enriching the inhabitants' quality of life.
If you want to optimize your utilization and enjoyment of the outdoors, call us to install a new concrete patio on your property.
Our diligent technicians work hard to create a concrete patio that is a seamless extension of your place. The concrete patio installed by us gives you the perfect place to:
Relax by yourself
Enjoy with your family
Entertain relatives and friends
With us on the concrete patio installation job, you are assured of a striking concrete patio that makes you want to spend the maximum time outdoors!
Call N. W. Creative Concrete at (253) 999-9080 to get a concrete driveway, concrete flooring or concrete patio installed.