Lakewood Foundation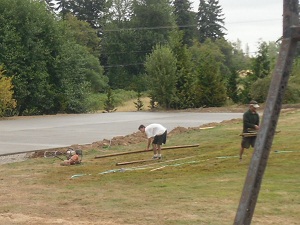 Everyone will agree with the following adage about various aspects of life – a strong foundation is a must for success. The same holds true for buildings. Their strength and reliability lie in the quality of construction of their foundations. A house, commercial building, or community structure depends on its foundation to hold and keep it upright. Solid foundations are all the more critical for maintaining the structural integrity of high-rise buildings that have become a common sight in modern cities. The foundation of any Lakewood, WA area building performs several functions. The important ones are bearing the load of building, anchoring it against the forces of nature, and isolating it from ground moisture. All structures have dead as well as live loads.
The 'dead' load refers to constant weight of the structure itself, while the 'live' load denotes the changing weight of people and content in the building, along with the rainwater or snow on the rooftop. The foundation of a Lakewood building is meant to transmit the total load into the ground without compromising its strength.During its lifetime, a building has to endure the harsh impact of natural elements such as strong winds, tornadoes, earthquakes, floods, and frost-heaves. It can be protected against being washed away or broken apart only if it is anchored securely to a sound foundation.
Ground moisture is yet another problem in which a solid foundation protects Lakewood buildings. In the Pacific Northwest, there is the risk of moisture from the ground seeping into a structure, causing it to rot and weaken. The problem is so severe that building codes for most structures in this region now require posts to be set in concrete blocks. Having a concrete foundation in Lakewood buildings is considered one of the best options to keep them standing and retain their shape.
As a leading concrete contractor, N.W. Creative Concrete can vouch for the preference among both residential and commercial property owners for a concrete slab foundation. Concrete is perhaps the most essential man-made building material. It has contributed to the expansion of urban areas. A concrete foundation has been used for countless buildings after the beneficial features of the material were discovered. The significant advantages that a concrete slab foundation has include:
Exceptional strength
Design flexibility and fast installation
Water and Fire resistance
Easy maintenance
A poured concrete foundation is solid and durable. It does not shift because of the movement of soil below the building. This feature of a concrete slab foundation assures building owners of better stability than foundations made of other materials. Along with this intrinsic solidity and firmness, poured concrete foundation has more compressive and flexural strength than concrete block foundation.
We are doing quite a few concrete foundation installation projects in Lakewood. One reason why we receive numerous calls for such jobs is that a concrete slab foundation works well for buildings of all types and sizes, with any layout design. Our team can be hired for pouring a concrete slab foundation in Lakewood for homes, commercial buildings, and industrial facilities. The poured concrete foundation construction process is relatively faster and has lower labor costs.
Strong resistance to fire and water damage is one of the key features of a concrete foundation. Lakewood property owners who choose a concrete slab foundation can enjoy peace of mind, with the knowledge that the building they live in or earn their livelihood from is not likely to develop water problems and is protected against fire. These useful qualities of poured concrete slab foundation for buildings in Lakewood come from its strong, dense, and joint-free construction.
We believe that ease in maintenance and impressive durability are also good reasons for the popularity of concrete foundation in Lakewood properties. Less tendency to rot and make a concrete foundation practically maintenance-free and long-lasting. Therefore, investing in a concrete slab foundation brings Lakewood residents attractive returns.
Lakewood Concrete Foundation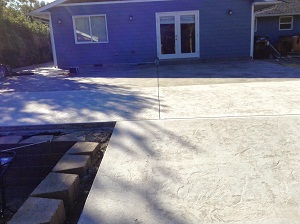 All property owners appreciate how critical the concrete slab foundation is for ensuring the structural stability and safety of their building. They also understand the importance of hiring a knowledgeable and experienced contractor like us for constructing the concrete foundation in their Lakewood property. As your concrete slab foundation installer, we, first of all, have to determine what would be the right type of foundation for your project.
The choice of the type of concrete foundation is made based on certain location-specific factors. These include soil type at the site, water table level, frost lines, flood zone classification and susceptibility to storm surges. It is always advisable to make informed decisions regarding the poured concrete slab foundation for your Lakewood property. Let us educate you a little about the different concrete foundation types, which include:
T Shaped
Frost protected
Slab-on-grade
Basement slabs
The classification includes variations based on local climatic conditions throughout the year as well as variations of the desired functionality of the building. A T-shaped or frost-protected concrete foundation is ideal in Lakewood as the region experiences seasonal freezing temperatures. The T-shape refers to the way of constructing the footing and concrete slab foundation. Footings are the lowest part of foundations.
These are what anchor the building to the ground and give strength to the foundations. For laying down the traditional T-shape concrete slab foundation in a Lakewood property, our team first builds the footing deep under the ground below the frost line. Walls are constructed after which the slab is poured. We take care that at each stage, concrete is allowed to cure correctly.
You can also ask us to install a frost-protected slab-on-grade concrete foundation for your Lakewood building. Slab-on-grade is typically meant for temperate areas and consists of a single, several inches thick layer of concrete. After putting the plumbing network in place and preparing the ground, this concrete slab foundation is poured over a bed of crushed gravel, which is placed for improving drainage. A wire mesh may be spread before pouring the slab-on-grade concrete foundation for your Lakewood house to commercial building to improve strength and reduce chances of cracking.
A frost-protected concrete slab foundation is useful to safeguard the slab against frost during the frigid months. The concrete is insulated between two rigid polystyrene sheets that make a pad for absorbing heat at the top from the heated building and also trapping heat from the ground. Our technicians are also experts at installing below-grade or an above-grade concrete foundation in Lakewood for people who are interested in having a basement or crawlspace in their property. In case of the former, a footing is laid below the frost line, and 8 feet high concrete walls are erected. After that, a below ground level concrete slab foundation is installed in the Lakewood building, and it is used as the basement floor. This project involves below-grade excavation.
Crawlspace foundations are raised foundations where the floor joists are supported upon concrete columns and walls. These are preferred by some homeowners to avoid moisture issues that may crop up with concrete slab foundation in Lakewood. Here, low foundation walls are erected after pouring the footing. A clearance of around 3 feet between the ground and floor frame creates a crawl space through which ventilation, electrical, and plumbing pipes can run.Besides those mentioned above, there is another way of classifying concrete foundation types. It is on the basis of its depth and breadth.
A shallow concrete slab foundation in any Lakewood property will have the breadth more than its depth, while a deep concrete foundation will be the one with more depth than breadth. With our extensive experience, we can be trusted to recommend the most suitable concrete foundation for our Lakewood customers. In business since 1992, we have observed the issues encountered by different concrete slab foundation types. This has helped us zero in on the best concrete foundation for this region. We are also well-versed with the building codes and zoning restrictions that govern concrete slab foundation construction in Lakewood.
Lakewood Concrete Slab Foundation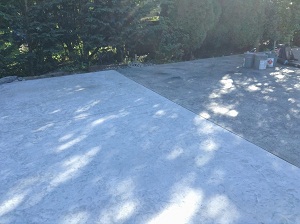 The quality of the concrete foundation of your Lakewood property has a significant impact on the security and longevity of the building. It also determines the wellbeing of your loved ones or employees and clients. That is why it is essential that you hire competent professionals for constructing your concrete slab foundation in Lakewood. Let us offer our expert services. We have honed our skills in concrete foundation installation over countless jobs and recognize the most important factors for laying down a successful concrete slab foundation in any Lakewood property. These are:
Using concrete mix of the right quality
Pouring concrete to an adequate thickness
Placing sufficiently deep control joints at the right places
Making suitable drainage arrangement
Our well-trained, seasoned technicians also understand that the soil conditions can affect the strength, reliability, and longevity of a concrete foundation poured in any Lakewood property. If the soil is such that water does not drain from it quickly, the slab would be susceptible to heaving and cracking due to the freeze/thaw cycle or rise in water table.
We see to it that our crew ensures proper soil compaction and, if necessary, place an adequate layer of gravel or engineered soil before pouring concrete slab foundation for your Lakewood building. We can also ensure proper waterproofing of the slab to prevent its damage. You can also count on us to use top-grade concrete for your project. There are mixes of wide-ranging strengths on the market. We care about the quality of concrete slab foundation we create for you and want you to get optimal value for your money. That is why we source material for your concrete foundation in Lakewood from reputable suppliers. The insufficient thickness of the slab is a primary reason for failure of a concrete foundation. However, you need not worry about it.
Our reputation depends on us providing our customers the quality work they expect. Everyone at our company practices superior work ethics, and you can rely on us to pour a concrete slab foundation in your Lakewood property to a proper thickness. Our experts also take care to place concrete joints to allow for cracking. All the work done by our concrete foundation company meets the highest specifications and go beyond the safety regulation standards.
The best thing that sets us apart from the other concrete slab foundation contractors serving Lakewood is that our services combine technical brilliance with an exemplary customer-friendly attitude. With us, you are assured of dependable support for your building from a solid concrete slab that is installed at competitive rates and also a stress-free, fully satisfying experience with the entire job.
Place a call today to discuss your upcoming projects requiring the installation of a concrete foundation with the experts at N.W. Creative Concrete in your Lakewood area property. Call us at (253) 999-9080.