Bonney Lake Flatwork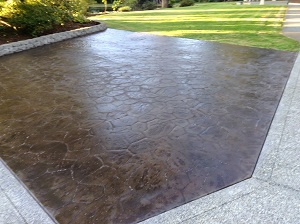 Concrete is one of the most versatile man-made building materials available Carefully proportioned, mixed, delivered, placed, finished, cured and jointed concrete will provide the highest quality surface. Concrete offers strength and structural integrity all the while surviving on low maintenance. One of the most common jobs for contractors and builders is of constructing flatwork.
Wondering what flatwork is? Concrete flatwork is a flat system of construction where concrete surface is poured on horizontal axis. It is expected to be extremely durable and absent of any random cracking at any given point. As the quality of art depends on the skill of an artist, similarly, the quality of concrete work done depends on the experience of the contractor you hire for the job.
Inexperienced contractors are mostly unaware of the level of knowledge and expertise demanded to build a perfectly smooth, well-designed and sturdy concrete flatwork surface. Well that is not the case with us!
One of the most critical aspects of concrete flatwork performance is surface durability. This is undoubtedly affected by many factors, but one of the most potent ones is the quality of concrete mix created by contractors for the project. Excessive water addition to concrete mixes will adversely affect the performance of concrete. An experienced contractor understands the level of consistency needed to build smooth and durable concrete flatwork at your Bonney Lake property.
Exterior flatwork concrete projects like sidewalks, patios, and driveways are exposed to loading and weathering. In normal circumstances, the concrete flatwork at your Bonney Lake property should perform satisfactorily with minimal care. However, conditions do occur which affect the life expectancy of the concrete surface.
Concrete flatwork constructed on your Bonney Lake property with properly designed concrete with a water-cementations ratio of 0.45 or less, having an air content of 6 (± 2) percent entrained air, provided years of durable performance under the most adverse exposure conditions when left top cure properly as well. N.W. Creative Concrete is one of the most leading and reliable flatwork concrete contractor serving the Bonney Lake, WA area.
Ever since we began in 1992, we have strived to deliver the best in customer service and affordable pricing for homes and businesses. Count on us anytime you want residential or commercial flatwork concrete projects done near Bonney Lake as we:
Are licensed, bonded and insured
Aim for 100% customer satisfaction
Have decades of rich experience
Offer free and fair estimates
Well, you do not have to worry as we take care of everything when you choose us for flatwork concrete work anywhere in the Bonney Lake area. From planning and procuring industry-leading material to finishing the job promptly, we take care of everything and anything during a flatwork concrete project for your Bonney Lake home or business. Our concrete flatwork masons are highly trained and use proper equipment to ensure the finegrading of subgrade, ideal thickness of flatwork, finishing and curing of the surface.
Therefore, make the right decision of choosing us anytime you want reputable contractors for constructing flatwork concrete projects in the Bonney Lake area. Do not get bamboozled by low ball offers that lack structural integrity in the long run. When you want the best flatwork concrete work done, you know you need to have the best for the job.
Luckily, you do not the daunting process of finding your ideal concrete flatwork contractor in the Bonney Lake area as we are here for you. No flatwork concrete is too big or small for our hard-working and skilled technicians. All you have to do is reach us, and we will take care of your flatwork concrete project for your Bonney Lake home or business. Get in touch with us today to know more about services or to hire us for a concrete flatwork project anywhere in Bonney Lake or nearby areas.
Bonney Lake Concrete Flatwork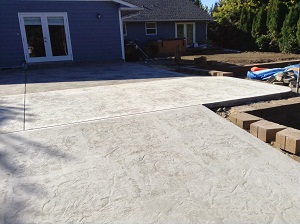 As experienced and knowledgeable concrete flatwork contractors, we understand the quality of concrete and concrete mix plays an essential role in building a sturdy surface. While inexperienced contractors fail to adhere to these standards, the quality of the entire project is reduced. You do not want that to happen at your property. Whether you wish flatwork concrete projects like driveway, walkways, parking lots or sidewalks, right concrete mix, and the skill of your contractor can determine how durable the entire flatwork job is going to be.
Luckily, you do not have to worry about this when you hire us for any big or small concrete flatwork project at your Bonney Lake area property. We work with concrete on daily basis and know exactly what is needed to create the best mix for any flatwork concrete project. We always have a trained workforce and advanced equipment available while ensuring timing of every operation is accurate. Our experienced technicians follow proper guidelines for your residential or commercial concrete flatwork project in the Bonney Lake area like:
Creating correct concrete mixture for the job
Spreading concrete using a short-handled, square-ended shovel
Properly consolidating concrete with particular attention to edges
Using lumber or metal straightedge for manually striking off and leveling concrete
As seen above, our technicians know all processes by heart and work accordingly which ensures that your flatwork concrete project in the Bonney Lake area is done with keen attention to detail. They take care of finer details like not to add excess water to the load to increase slump or ensuring the supply of the concrete mix is consistent and timely.
They are even trained never to use a garden rake or tined tool for any concrete flatwork project as that causes segregation when moving concrete horizontally. We use state of the art equipment like vibrating screed or internal vibrator to accomplish consolidation for large areas during bigger concrete flatwork projects near Bonney Lake or nearby cities.
Our crew has the necessary experience and knows that vibrating screed should be moved rapidly to ensure consolidation but avoid working up an excessive layer of mortar on the flatwork concrete surface. With all the dedication and experience of our staff, we have successfully delivered some of the finest concrete flatwork projects in the Bonney Lake area.
Therefore, when you are wondering, 'where can I find professional contractors for concrete flatwork construction near me', give us a call. It is not only about ensuring the work is completed promptly using good quality materials. For us, it is also about delivering extremely thorough, friendly and hassle-free experience for you anytime you choose to call us for a flatwork concrete project at your Bonney Lake home or business property.
We believe in solid foundations thus work carefully to deliver that. This is why our business operates on the strong foundations of hard work, consistency and high integrity. Combine this with the skill and experience of our talented technicians, you get one of the best flatwork concrete company serving Bonney Lake. Any flatwork concrete project done by us in Bonney Lake area has only added to the curb appeal and the property value of the property owners.
While it is true that concrete is extremely durable, cracking and other problems do occur. From quality flatwork installation, repair or replacing old flatworks, there is nothing we cannot handle. Leave all you flatwork concrete worries in the Bonney Lake area to our confident and experienced technicians. We stay updated with the latest building codes and guidelines, always following them to ensure a safe and long-lasting end product.
So, make the right choice, choose us anytime you want quality flatwork concrete project in the Bonney Lake area that delivers the best return on investment. Call us today to learn more about concrete flatwork services for Bonney Lake residential or commercial property owners.
Bonney Lake Flatwork Concrete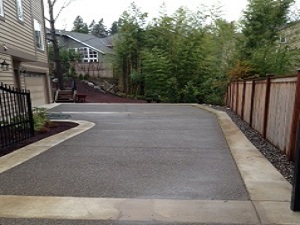 No concrete flatwork project for your Bonney Lake home or business property is complete without proper finishing. You are wondering what is finishing? It is the operation of creating a concrete surface of the desired surface texture, smoothness, and durability. Whether you want a functional finish or a decorative one for your flatwork concrete surface in the Bonney Lake area, it can be achieved with quality finishing.
Even though the end product is attractive, the process is highly skill demanding as the final texture, surface, hardness, and joint pattern on slabs, sidewalks, patios, and driveways depends on the final use of the concrete. We specialize in optimizing top-quality finishing for any big or small concrete flatwork project in the Bonney Lake area. Whether you want a smooth concrete flatwork for commercial floor needs or decorative flatwork for residential interior floors, we can take care of everything and anything. Our technicians are trained to properly follow the rules for a quality finish of any flatwork concrete project in Bonney Lake like:
Placing and moving concrete to final location while avoiding segregation
Striking off and obtaining an initial level surface without sealing
Using appropriate surface texture as required according to the project
Curing concrete to ensure it achieves the desired levels of strength and durability
Any flatwork concrete surface at your Bonney Lake property needs to be leveled using a bull float or highway straightedge before bleed water appears on the surface. Then, our technicians wait before starting subsequent finishing operations until the concrete has completely stopped bleeding. Why? Because any operations carried out during the bleeding phase result in flatwork concrete surface defects like dusting, sealing, crazing and blisters.
Once the bleeding has ceased, the next step in constructing concrete flatwork at your Bonney Lake property includes floating the concrete using a machine or hand. Then the desired texture is implemented on the concrete flatwork surface after floating. While all this is important, it is also essential to make sure what not do during the process. Like one should never sprinkle water or cement on concrete flatwork at your Bonney Lake property to facilitate finishing.
After this, the crew edges and joints the concrete when required. Once the finishing of flatwork concrete project for your Bonney Lake property is completed, our team cures the concrete for hydration of the cement. This step is extremely necessary for achieving the required strength and durability of the concrete flatwork surface.
Our highly experienced crew follows proper safety rules and standards during any concrete flatwork project in the Bonney Lake area, which is why we take pride in being efficient, precise, and safe contractors who can deliver one of the best flatwork concrete projects with utmost ease and quality.
Therefore, reach us anytime if you are planning on a new flatwork concrete project for your Bonney Lake property or want repairs done on the old one. We look forward to discussing your project and creating exactly what you envisioned.
Call N.W. Creative Concrete at (253) 999-9080 for professional concrete flatwork services in the Bonney Lake area.